1. Oil Painting Course for beginners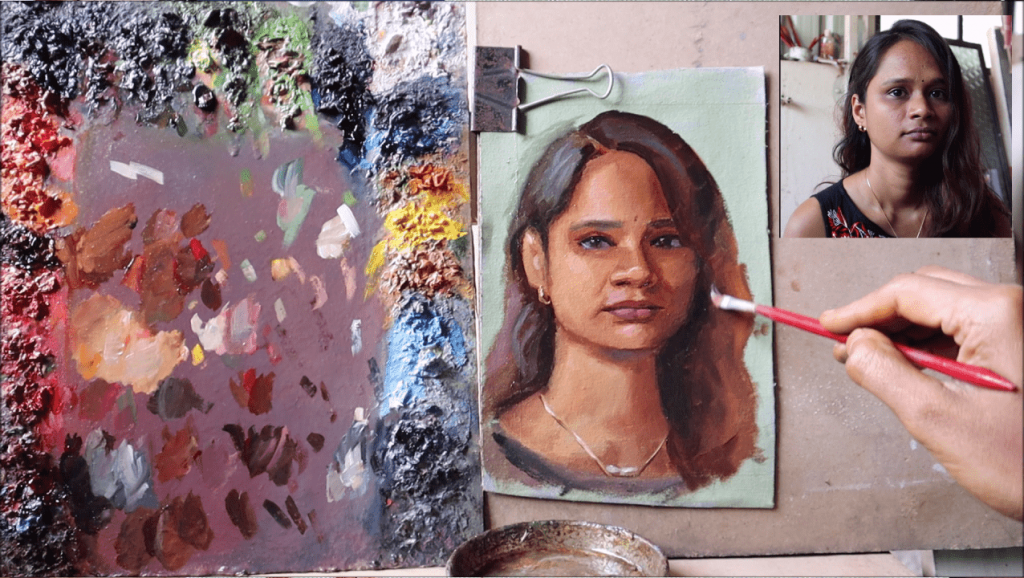 It is an online self learning course, pre-recorded videos.
If you have completed our portrait drawing course for beginners, you are eligible for this course.
This course teaches you everything from the basic, fundamentals of oil painting, portrait painting, preparation of canvas and preservation of painting once it is completed.
This course teaches you a variety of Indian skins – dusky brown, dark brown, very dark, fair and very fair.
It has 19 hours of teaching, 2 portrait painting demos from life, 6 demos from photo 1 still life demo from life.
After this course you will be able to do portrait painting study (color & monochromatic) from photo and life without the use of grid.
One time fee of Rs. 4000 and lifetime access to the course.
This course is suitable for anyone above age 15 & all adults.
You can get your doubts clarified through the mail mentioned in the course, Artist RamyaSadasivam will be calling you every month end to clear your doubts (6 months from the purchase of the course).
This is the course, this is where you will be enrolled right after the course – RamyaSadasivam-ArtSchool.Com/PortraitPainting . You can find the topics that are covered under this course.
Students can join the course here
EMI starts at Rs. 400
Course Fee is Rs. 4000