So why do I create nude paintings ?
I am known for my nude paintings (figurative artwork), and yes I am artist RamyaSadasivam. Each time a youtube channel approaches me for an interview, they want to cover me for the nude paintings I create and make a big controversy out of it.
They want to make a big story out of it, expecting it to go viral so their channel would do good. I have given them several chances to really do a decent story on me but every time I give them an interview I have fallen prey to their trap to create controversy around my nude paintings , but how did it all start?
I started painting in 2009, and before that I was a hobby artist. I had a flair for art since childhood, but I took it seriously only when I feared I might lose this as a career if I did not took it seriously then. There was an extreme pressure within myself to make money but then I did not want to drop my love for art, so I wanted to generate money using my practice. Then I did some research and learnt the basics with which I did a lot of commission works of single and family portraits. Later on when I wanted to take my art career next to the other level, when I was looking for ways to climb the ladder, that is when I was inspired by a few artists whose work did something to my soul. Google and youtube helped me discover these artists.
Now I will mention a few reasons why nude paintings are very important to me.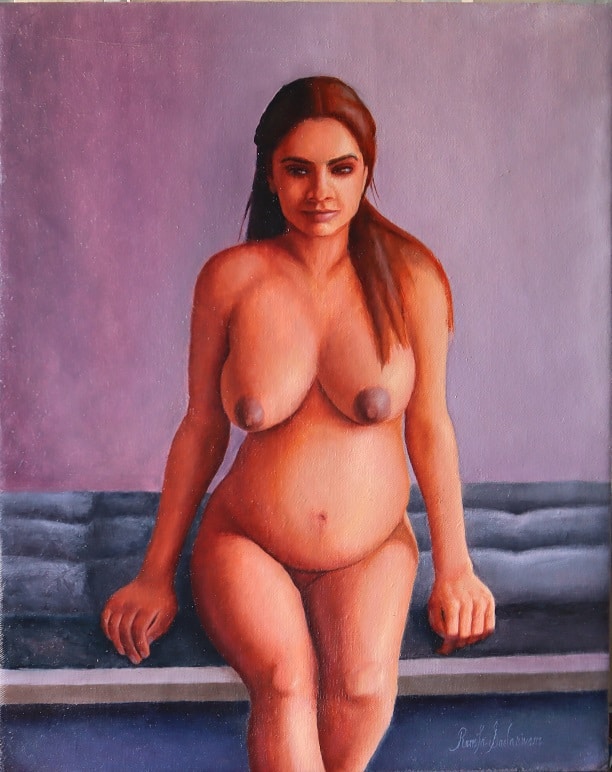 Reason to create Nude Paintings 1: Portraiture and Cultural paintings
The base for any portraiture or cultural paintings is figurative artwork which is roughly called as nude paintings in layman terms. Let us say I am doing a portraiture of a woman, how would I know where she would have the projection of her breast without actually knowing where exactly her breast would be. Let us say I am doing a portraiture of a voluptuous woman with a beautiful belly paunch, how would I know where to make her dress project without exactly knowing where the paunch would be in between the breast and vagina. So the base of any portraiture or cultural painting is figurative study and practice.
Reason to create Nude Paintings 2: How would you practice anatomy?
If I had to do a commission portrait painting of a person or a family, how would I know the length of an arm in reference to the leg or body? This proportion and measurement of body parts with respect to the body differs between male and female. How would I be confident if I do not do enough figure study and practice?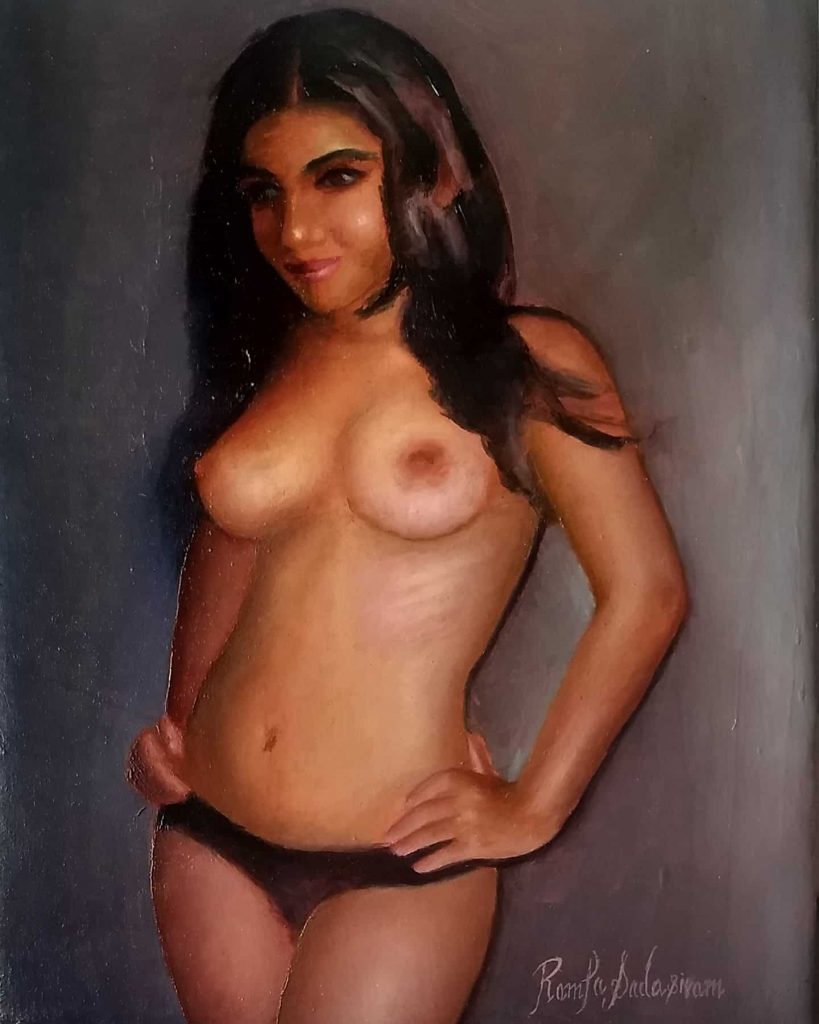 Reason to create Nude Paintings 3: How would you practice light?
When light falls on someone / something, the whole artwork gets divided into the presence of light, absence of light and the shadow areas. So if I am to do a commission portrait of a person, let us say she is wearing a small blouse, how would I know where there is possibility of light and absence of light on the arm without practice. What is enough figure study? There is no such thing as enough study; practice has to be regular and frequent so I can stay confident in my career.
.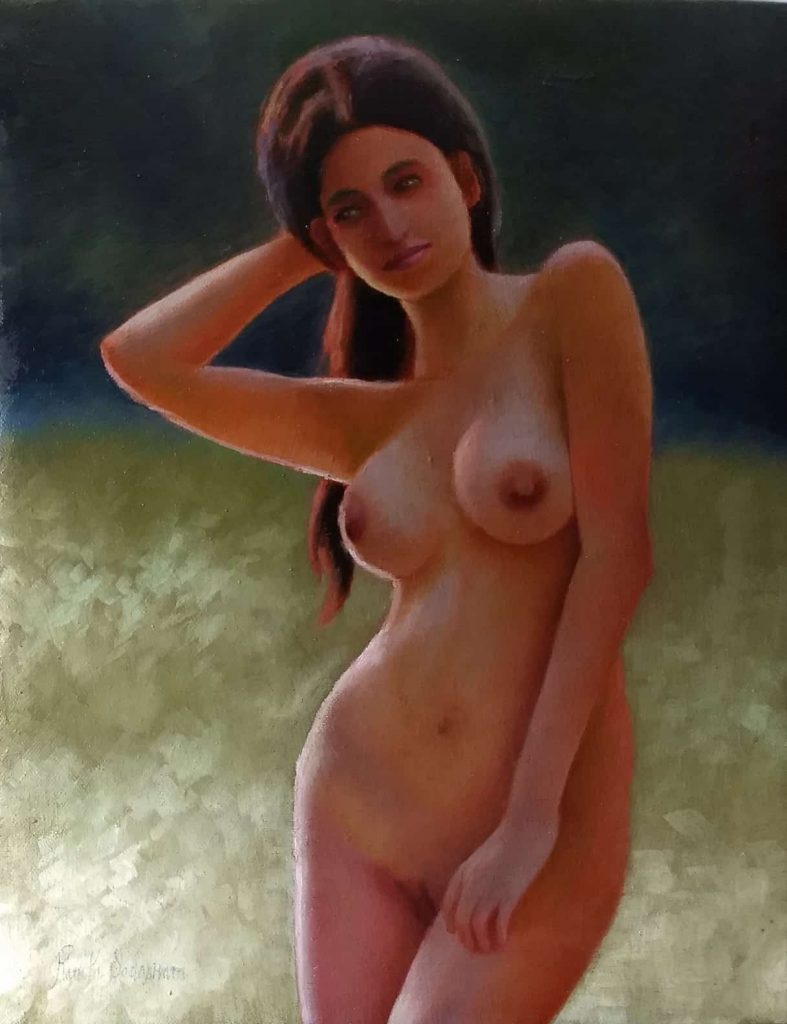 Reason to create Nude Paintings 4: Why would I not sell the artworks that I do?
Since it is a necessity to practice figure, when I invest so much for the figure study, why would I not sell my nude paintings? I pay for my model, she/they/he come to my studio and they pose for me. Sometime when I practice, I finish my work within a day. The other times, it takes more than 2 days. When I invest so much on the study in terms of time, energy and money, why would I not sell my paintings?
Reason to create Nude Paintings 5: It is fun to practice from life
Figure study is a huge part of my syllabus and therefore it has become an important part of my art career too. Why should I not have some fun doing that? Why should not I make business out of it? When there is huge audience to purchase nude paintings and also my artworks, why should I not produce them?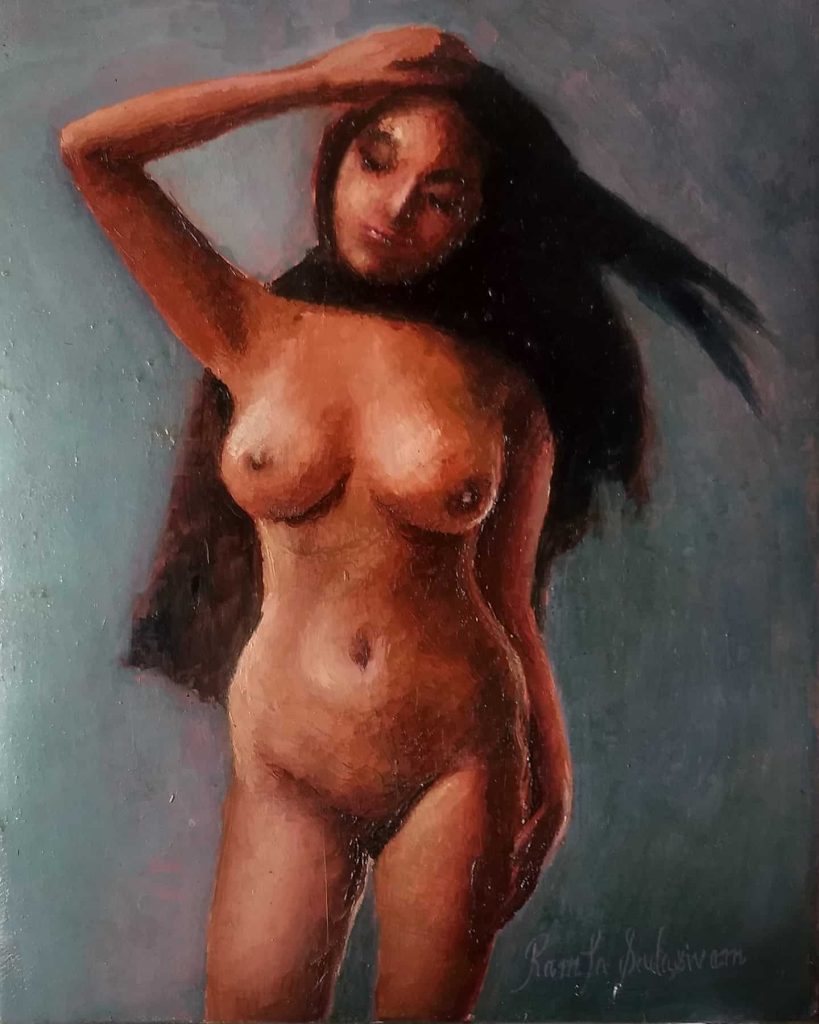 Reason to create Nude Paintings 6: It is fun to practice nude artworks
In JJ school of art, as it is a part of art syllabus, they invite models on a regular basis. This live portrait painting process is either plein air or indoor, but it is a group project. So all of the students of the college do figure study with one model in the middle. So there will always be good and healthy competition among the students as to how one work is better than the other. That is how those students study figure.
Reason to create Nude Paintings 7: Artists that proudly create nude paintings
When I started my career, when I was exploring the field and art career, I stumbled upon Serge Marshinikkov. I became a big fan of his paintings and his style. That is how I started doing nude paintings. Why should not I love the theme figure, nude and semi-nude paintings? Cesar Santos, Anna Rose Bain, Suchithra Bosle and Jeremy Lipking and several other artists create and sell nude paintings.