If you are looking for original paintings for sale, you are on the right page. You are here to view my paintings. If you are looking to purchase any of these paintings, you can contact us so we can take it forward.
Original paintings for sale – Kuthuvilakku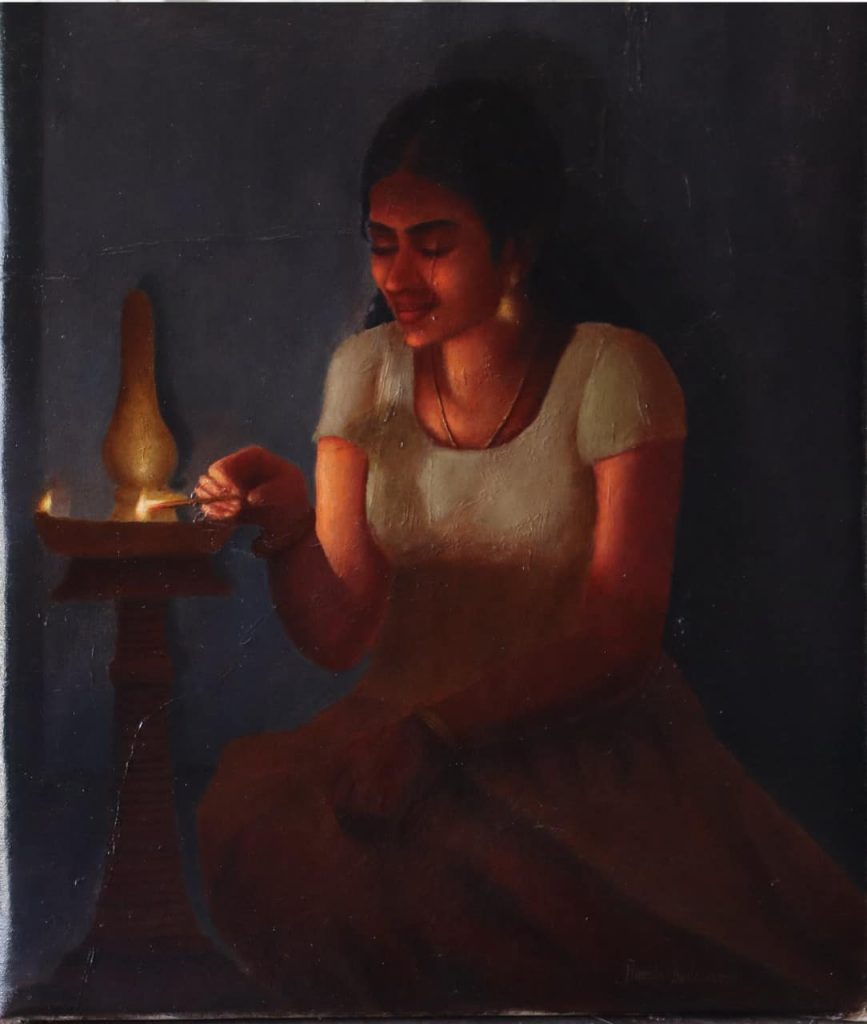 Oil painting on canvas, 16 * 20 inches
I started this original oil painting for sale just like that and it got serious. this painting took me a minimum of 5 days to finish. I did a rough color scheme of the painting and as a second round I had to give it a shape, see how I can demarcate between the presence of light and the absence of light. And then I had to go in that direction. However as there is too much darkness, and to create the light on her face was very challenging. The light on her face should not be confused with the broad day light. It is a very tricky work, the light that falls on the subject's face should be very yellowish or orange in nature. I have a feeling that the objective was achieved.
Original paintings for sale – Self Portrait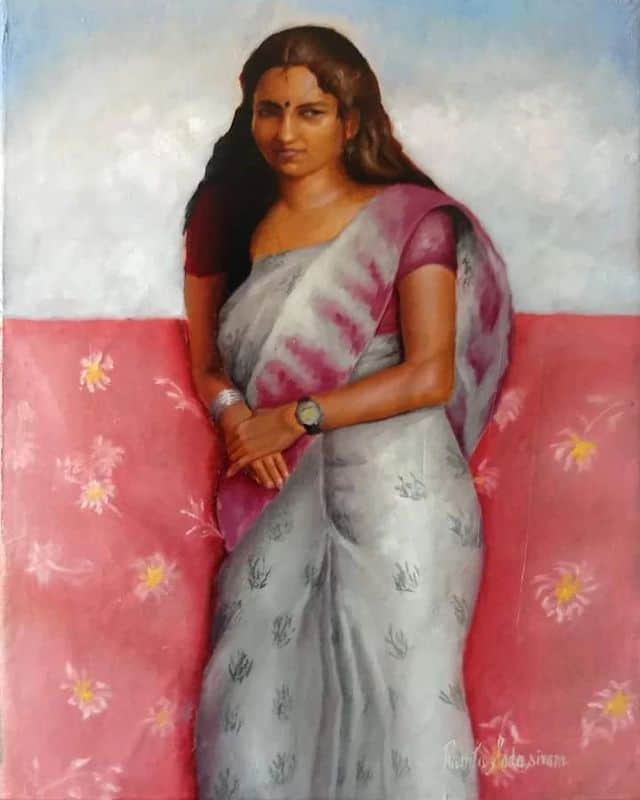 Oil painting on canvas, 14 * 11 inches
This is a snap that my brother took of me. I looked pretty, pretty confident as well as casual and I wanted to capture that attitude I showed in the pose. It was quite challenging for me to understand my own skin and recreate it on canvas. Sometime we might tend to overdo our beauty and complexion in the earning to look more beautiful than the original self. I was quite conscious not to do that. I hope I did not, however I am slightly wider than my original self lol which I noticed only after finishing the painting. Anyway I love the finished version of the artwork. This is literally an original painting for sale.
Original paintings for sale – Chachvaali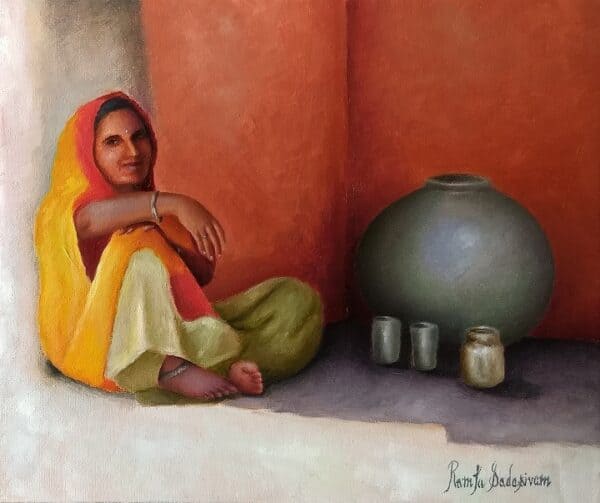 Oil painting on canvas, 8 * 10 inches
This is such a small original painting. I actually wanted to just focus on the painting give as much as time and effort I could to this work, that is all I thought during this painting. I would consider this one of my most satisfying works. It is all in place and I love how I accomplished the skin tone.
Original paintings for sale 5 – Child playing with the Sack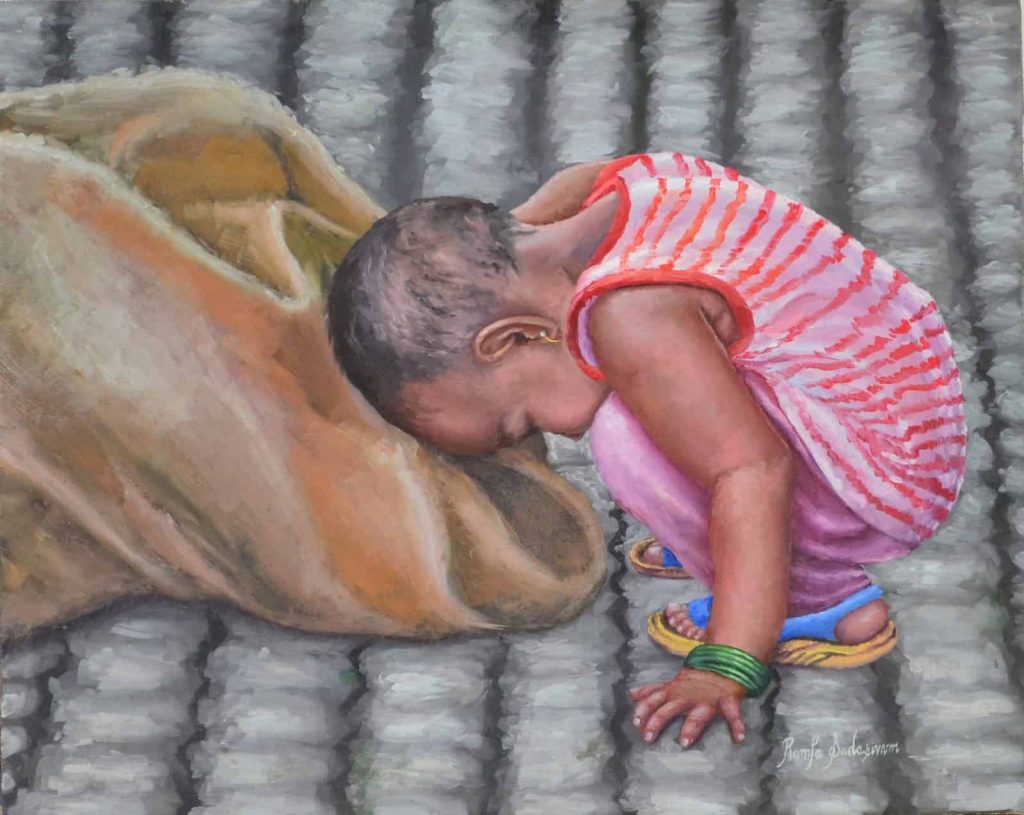 Oil painting on canvas, 16 * 20 inches
This is a painting where I wanted to capture the innocence of this beautiful kid. Children play with almost everything at sight. They like to get all nasty and dirty. Their favorite toy is the sand particles that they find underneath their feet. The expensive toys that you purchase them would not appeal to them lol. There is no concept of time in their life which enables them to be very happy and peaceful. This is just a baby placing her against the sack bag and playing.
Original paintings for sale 5 – Girl lighting the lamp
Oil painting on canvas, 20* 16 inches
I so love to do dramatic paintings. Dramatic painting by which I mean is the play of light in the scene. I so love to do skin and various ranges of light on the skin. I took about 7 days to finish this painting. I thoroughly enjoyed the presence of light part on her skin and also the reflection on the light.
Original paintings for sale 5 – The Shadow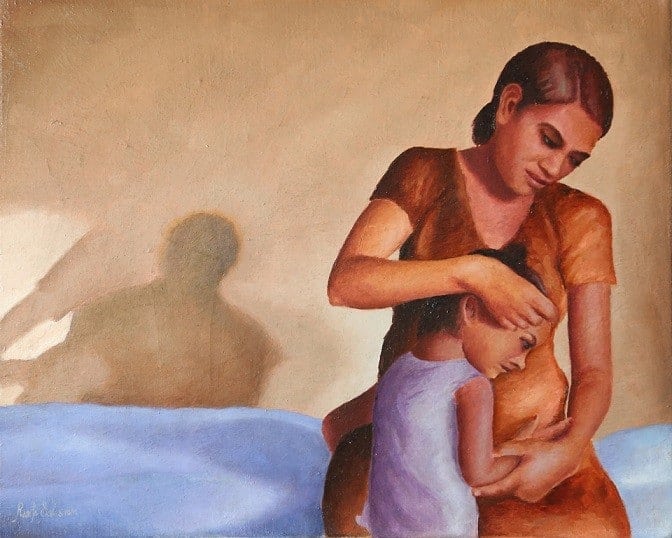 Oil painting on canvas, 16 * 20 inches
I would consider this one of the studies that took very long. The process of painting or creating an artwork is almost like a process of meditation. One has to study the source of light, the direction of light, the shadow it may or may not cause and so on. Here in this work, there are 3 beautiful living beings, the mother, the daughter and the fetus. The child seems to be in love with the fetus already. And the mother seems to be pampering the elder kid. Such a scene full of love. I wanted to capture the love and the care that was in the scene.