Varnishing an oil painting, why is the process of varnishing necessary?  An acrylic or an oil painting does not need a glass cover over it along with the frame. You should not cover your oil painting with a glass, because these paintings are already glossy in nature and less prone to damage.  So it is enough to frame a painting and they look great without the cover of a glass on it. So the only way you are going to preserve it is by varnishing the painting and framing it.
How to varnish an oil painting ?
Drying before varnishing an oil painting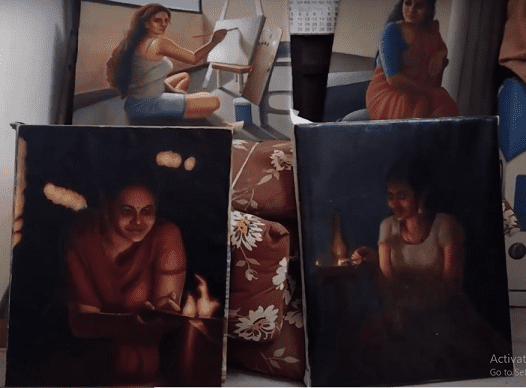 This is the finished version of my oil painting. I generally allow it to dry for a minimum of 3-4 months until it is completely dry. I am not looking for the painting to be semi-dry or a touch-dry. The painting has to be extremely dry, especially if it is an oil painting please allow it 5-7 months but this duration changes from country to country depending on the day temperature that you generally have.
Here in India, it is extremely hot between March to August that I allow it to dry for only 3-4 months. It works fine for me as we experience very hot weather here.
Cleaning before varnishing an oil painting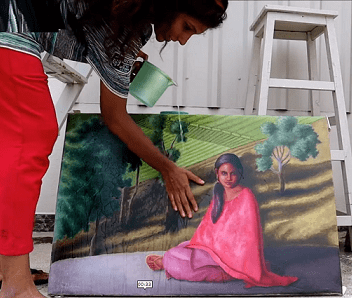 After the painting dries, I gently wash it with water. This is an unconventional method but it works for me. I do a very gentle washing, but if you have kept relief on your painting I would suggest do not do that. I only wash because my studio has a lot of open space for the passage of light. So the windows encourage accumulation of dust on my painting. I do not want to varnish over the dust deposit on the painting as the dust could become a part of the painting. In case you varnish it over the dust, then the painting is over. The dust particles will become a permanent part of your painting. You can see patches of dust mixed with the varnish liquid here and there on your painting. This is not the effect you are looking for on your painting. In order to avoid that I do a gentle washing, then do a gentle wiping with a banian cloth which is extremely soft.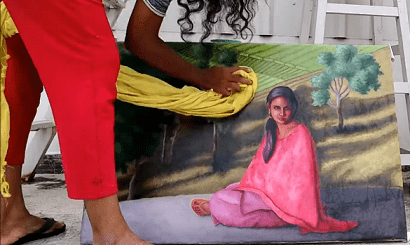 Then I gently wipe it using a dry cloth. Then I look for the cloth particles anywhere on the painting, after I get rid of the cloth materials on my artwork, I apply varnish.
Varnishing an oil painting, the process
First coat of varnishing an oil painting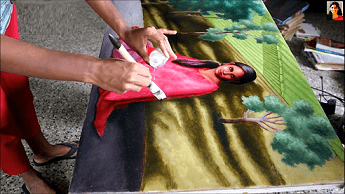 Varnish has a very irritating odour so I cover my nose and mouth using a cloth. I pour my varnish from the varnish bottle into a wide-mothed bottle. I choose a dry and wide brush for varnishing. I dip the brish into the varnish, take significant amount of the varnish and gently apply one coat of varnish all over the painting. Sometime I pour a little bit of the varnish on the painting and try to spread it all over the oil painting.
Second coat of varnishing an oil painting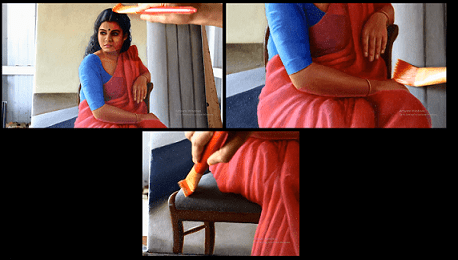 This is not enough for me, because the first coat of varnish will not cover the whole of the painting. So during the second round of varnish application, I pour small amounts of varnish here and there and then I gently distribute it using my brush and try to cover the whole of the painting.
Drying the painting after varnishing the oil painting
Then as the third step, I allow it to dry for a minimum of 1 hour in open space. Open space by which I mean, I keep my painting in the shadow and not under the sun. Please do not keep it directly under the eye of the sun. The colors will just fade or it could get absorbed by the canvas. No matter what if you dry the painting directly under the sun, you will see a massive loss of colors and values all across the painting. The very intent of this exercise is that the pungent irritating odor of the varnish will mix with the air and varnish. Then the painting is safe for you, for your health and lungs. Then it will be very convenient for you to take a photo/video of your painting and share it on your site or other online art galleries.
Varnishing an oil painting the right way – Things you should not do
How long should you what before you start varnishing an oil painting
If you have done a lot of layering on your painting, or glazing on your painting, it is safe to wait for 6-7 months before you varnish it. If you varnish a painting before it is completely dry, what happens during the process of varnish is that you can see the varnish liquid and few of the colors from your painting mixing up. And while you continue to apply varnish, this mixture will distribute itself over the other parts of the painting causing huge damage on your painting. This damage may become very difficult to repair.
Right treatment of canvas, before you start an oil painting
It is a very normal thing to do to treat a canvas before you start a painting. My canvas treatment steps include application of primer and gesso. You should use good brands of these materials otherwise they may cause you trouble when you varnish your completed painting. Also you should allow the treated canvas to dry for a minimum of a day before you could start your painting. This will help your finished painting dry faster.
Ways of varnishing an oil painting
Liquid Varnish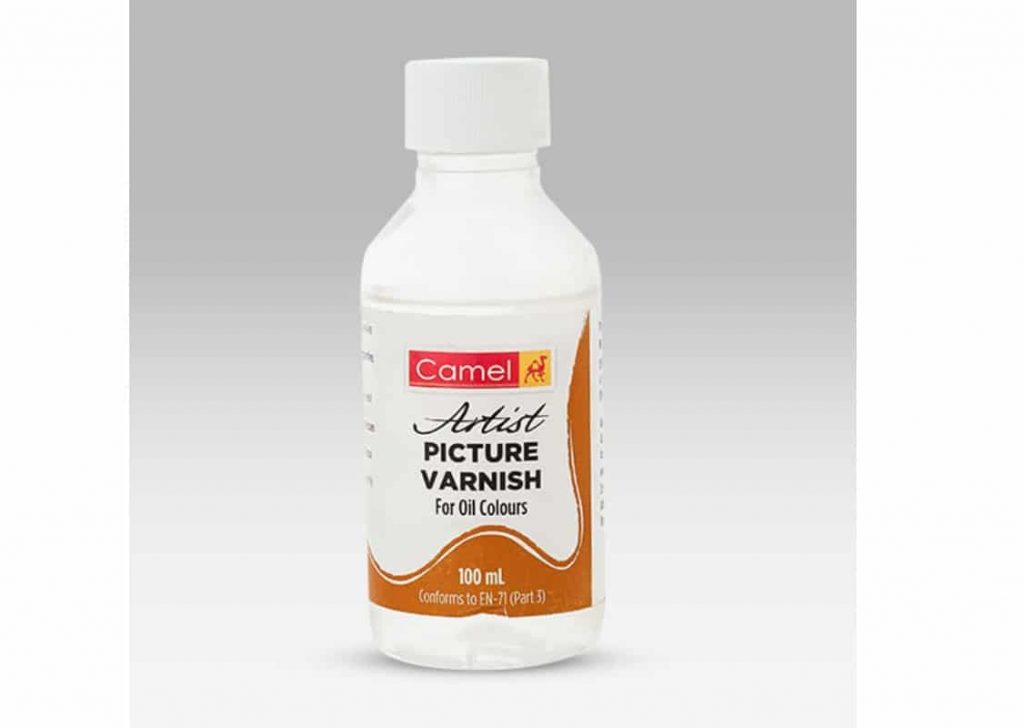 This is the way I varnish my painting. This is really simple and reliable. I empty the varnish bottle in a widely mouthed container with a lid, so I can cover it after I use it. I use a wide brush and dip it into the varnish and then I apply it on the canvas. Wider the brush, better the process of varnish.
Spray Varnish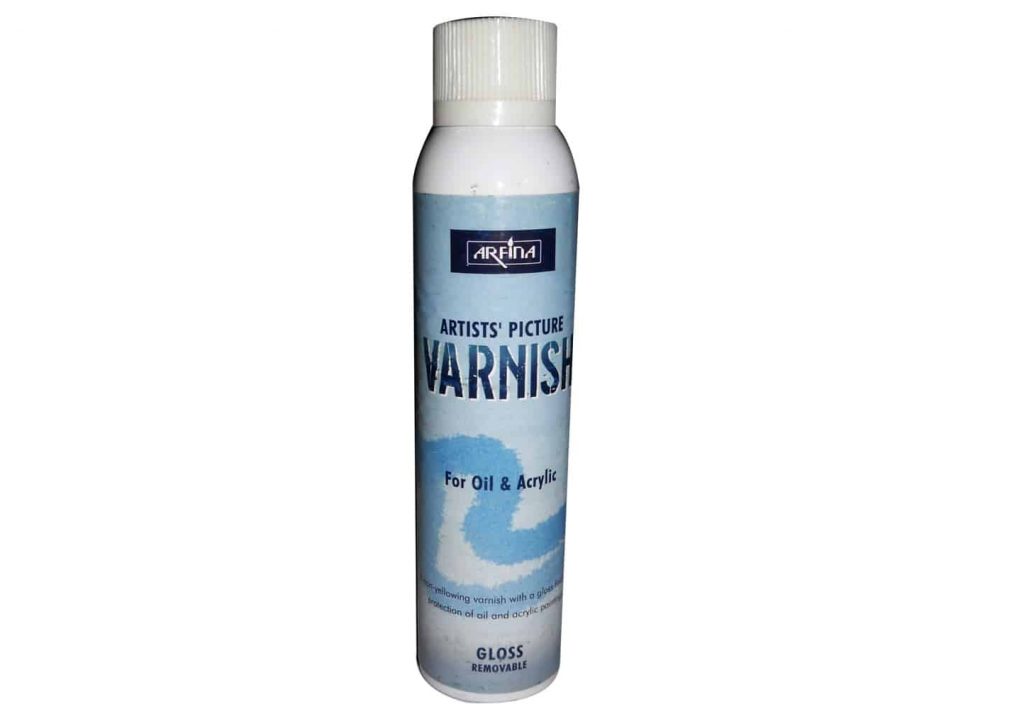 This is not the product I use to varnish my painting. This comes inside a cylindrical container with a spray mouth just like your room spray or perfume. You can just shake the container and then you can start spraying it all over the painting. The drawback of using the spray varnish is that, it is not easy to control the pressure each time you spray. So sometimes you may find an undesirably large amount of varnish throwing itself on one part of the painting, which unfortunately you can not spread it to the other parts of the painting. This is the reason I do not use spray varnish. I stay away from spray varnish. It really scares me to see so much varnish falling on my painting with such huge pressure.